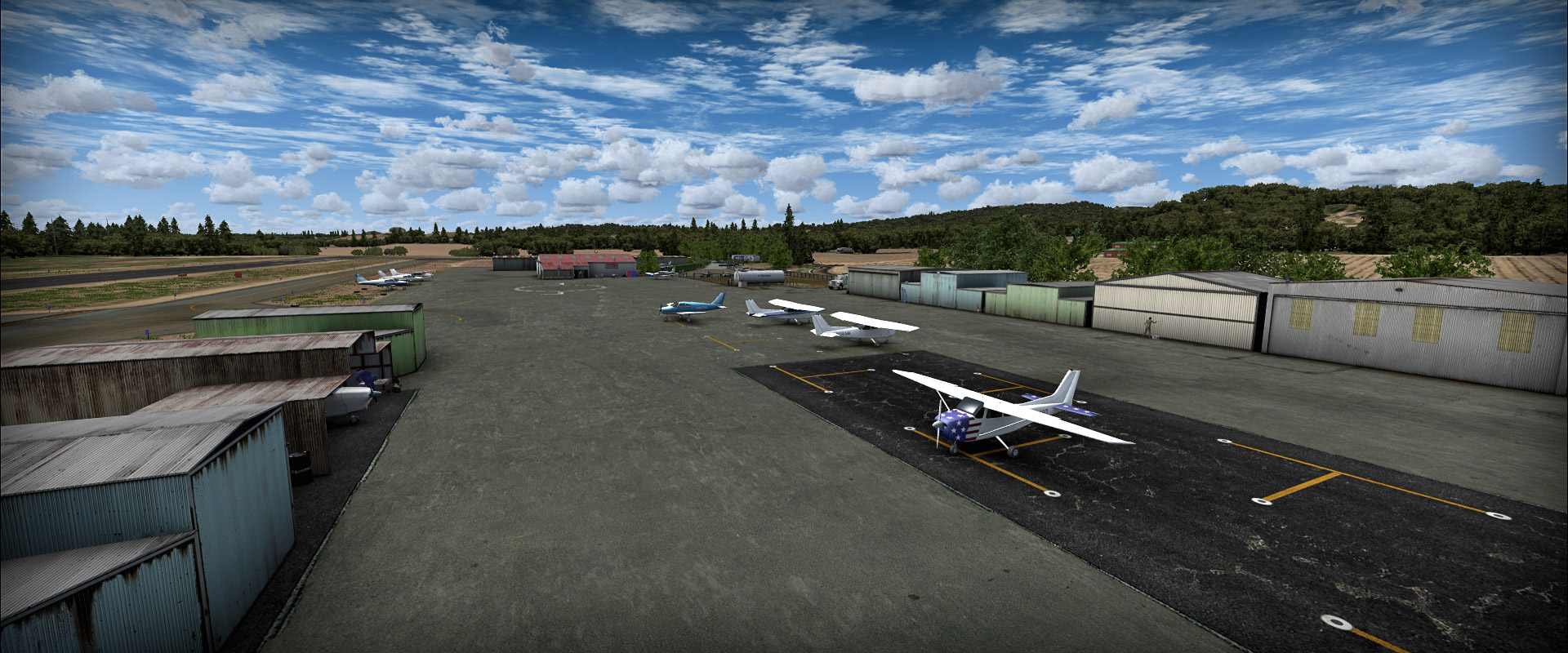 Image Courtesy:- Cloverdale Municipal Airport
---
We are specialized for creating the website for Airports, (Include Civilian Airport and Cargo Airport) Seaplane Bases, Glider Ports and Ultralight Ports. We studied all technical resources to create a complete website for an Airport. We have specialized in creating complete information for an airport website.
In this digital era peoples searching for their travel information through the internet via computers, tablets, and smartphones. Your business profile is your website and trusted lead generator in the aviation industry. You need separate airport information website for your companies airport and related business within complete technical perfection. We specialized in web design and web development with user-friendly, mobile friendly and optimized for search engines. Your website development needs visually attracting, easy to find menu links and services, then properly developed search engines for easily crawl and rank your website. Find our website design and website development information explained pages for knowledge and ideas about your airport website creation needs.
IndexRise.com reaching worldwide for developing and marketing company helping small to medium land operation sized airports design beautiful websites with rich information content. You can promote the airport website and related business nationwide and worldwide with our marketing tactics. We have to offer Drupal, Joomla and WordPress CMS based high-quality website for our clients. The content management system based website allows you modify your aviation-related business website whenever you want. add additional pages, images, and your airport related news or blogs at any time. We also offering website modifying and maintenance service for you. We are specialized e-commerce website development if you want to develop your airport website connecting with your own storefront for aircraft part sale, maintenance or anything else.
If your airport website not found in search engine results we can study your strengths and weaknesses of your website, then report to you what we want to optimize your website or giving you some tips to increase your website organic search traffic. Additionally, we can help for social media optimization for your airport website and maintain your website on social media channels, write search engine friendly articles and how to handle your email marketing campaign. Our marketing strategy reports help you how to maintain your PPC Ads through Google Adwords, we can reduce waste in your spending, set up targeted ads, display ads, text ads and provide to your ideas and reports how to best optimization for your airport website with small money spend. Website design, optimization, and marketing now do not a matter for you, Now you find us for creating an airport website design, redesign your current website to transform your web pages to modern technology or help you promote and market your website. Our more capable of design your airport website and marketing it t best level. Contact us for more details for your all website creation and marketing needs.
We will set up and create all information pages for your Airport information. If you just need minimum information or addition specific information about your airport, we have all solutions and development tactics for it.
About Us

:- Complete information for your airport and founding information.

Airlines

:-

Airlines servicing to your airport.

Airport Amenities

:-

Facilities available in your airport for common travelers.

Aircraft Maintenance & Repair Shop

:-

Availability of aircraft maintenance services in your airport.

Aircraft Rental

:-

If your airport connected with any airplane rental service.

Airport Communication

:-

Airport communication and emergency radio frequency in your airport.

Airport Community

:-

Community functions and activities related your airport neighborhood.

Airport Events

:-

Annual and special events announcement update page for your airport website.

Airport Location Information

:-

Technical information about your airport location.

Airport Lounge

:-

Information and amenities available in your airport lounge.

Airport Map & Image Gallery

:-

Airport map and airport image gallery.

Airport Regulations

:-

Rules and regulations for using your airport.

Airport Operations & Services

:-

Menu of activities and services related to your airport.

Airport Usage Fees Information

:-

Aircraft landing and parking fees information page.

Arrival & Departure

:-

Flight arrival and departure information for commercial airports.

Aviation Club Information

:-

Information on any aviation club working with your airport.

Bars and Coffee Shop

:-

Bars and coffee shops in your airport or nearby area.

Blog and News

:-

New and information update from your airports.

Business Aviation Service

:-

Executive business class aircraft charts service in your airport.

Cargo Center

:-

Cargo flights and vehicle service information related your airport.

Contact Us

:-

 All contact details and instant contact form for your airport.

Destinations

:-

Flight services information to all destinations from your airport.

Disclaimer, Terms & Conditions

:-

Term and condition of your airport and related website use.

Emergency Services

:-

Ambulance, fire and medical services available in your airport.

FBO Informations

:-

Your airport's fixed base operator information.

Feedback & Review

:-

Your airport's travelers review and feedback.

Flight Schedule & Traffic

:-

Flight schedule chart information.

Fuel Services

:-

Fuel service timing and present rate information in your airport.

Hangaring Facility

:-

Flight longtime parking service availability service in your airport.

Hotels, Motels & Restaurants

:-

Hospitality and restaurant nearby your airport.

Management & Staffs

:-

Mangement and staff profile page.

Parking Facility

:-

Vehicle parking facility at your airport.

Pilot Information

:-

Your airport's Technical information for pilots.

Privacy Policy

:-

Your airport website's privacy policy.

Recreation & Tourism Attractions

:-

Nearest tourism attraction from your airport.

Runway Information

:-

Detailed runway information of your airport.

Shipping Services

:-

Cargo shipment services in your airport.

Shopping Facility

:-

Storefronts in your airports for pilots and travelers.

Sitemap & Directory

:-

Detailed sitemap links on your website.

Social Media Linking

:-

Social media linking page for your website.

Taxi Services

:-

Taxi services available within your airport area.

Terminal Service

:-

Termoinal service time amnd availability.

Tenant Information

:-

Permanent tenants information page.

Useful Links

:-

Useful links page related your airport website.

Visitors Information

:-

Information for your airport travelers.

Weather Condition

:-

Live Weather update in your airport area.

Working Hours and Direction

:-

Common working hours information of your airport.
Contact us more details for creating a website for small airports or medium size website or redevelop your present website with present high-quality web development technology. We assist you to choose what you want to design in your airport website creation and developing it. We create minimum pages, content functions website for small activity maintain airports or maximum pages and content for medium-sized rush activity maintain airports.
Website Desing | Website Development | Marketing
---
Airport Website Design And Development With Minimum Requirements
Standard Domain Registration:- $15/Per Year (Premium Domain Cost Extra)
Standard Website Hosting:- $20/Per Year (Premium Hosting Cost Extra)
Theme Design and Installation:- $150/One Time
Website Development Cost:- $150/One Time
*Including Maximum 5 Web Pages
Total Cost: – $335
Make Your Payment With PayPal™

---
Airport Website Design And Development With Medium Requirements
Standard Domain Registration:- $15/Per Year (Premium Domain Cost Extra)
Standard Website Hosting:- $20/Per Year (Premium Hosting Cost Extra)
Theme Design and Installation:- $250/One Time
Website Development Cost:- $250/One Time
*Including Maximum 10 Web Pages
Total Cost: – $535
Make Your Payment With PayPal™

---
Airport Website Design And Development With Maximum Requirements
Standard Domain Registration:- $15/Per Year (Premium Domain Cost Extra)
Standard Website Hosting:- $20/Per Year (Premium Hosting Cost Extra)
Theme Design and Installation:- $350/One Time
Website Development Cost:- $350/One Time
*Including Maximum 20 – 30 Web Pages
Total Cost: – $735
Make Your Payment With PayPal™